Everipedia Launches Chainlink Node to Bring US Election Results onto the Blockchain
We are excited to announce that Everipedia is collaborating with Chainlink, the most widely-used decentralized oracle network, to launch our own Chainlink Node and bring The Associated Press' (AP) US election results onto the blockchain in a highly secure and tamper-resistant manner.
The Everipedia Chainlink node will provide smart contracts access to US election data backed by a cryptographic proof that can be used to verify the data from our node comes directly from the original Associated Press API to which Everipedia has exclusive, authenticated access. With this verifiable data available on-chain, smart contract developers can create new financial products based on the outcome of the upcoming US Presidential Election, such as prediction markets, derivatives, and beyond, all of which can be created, executed, and settled with the utmost reliability.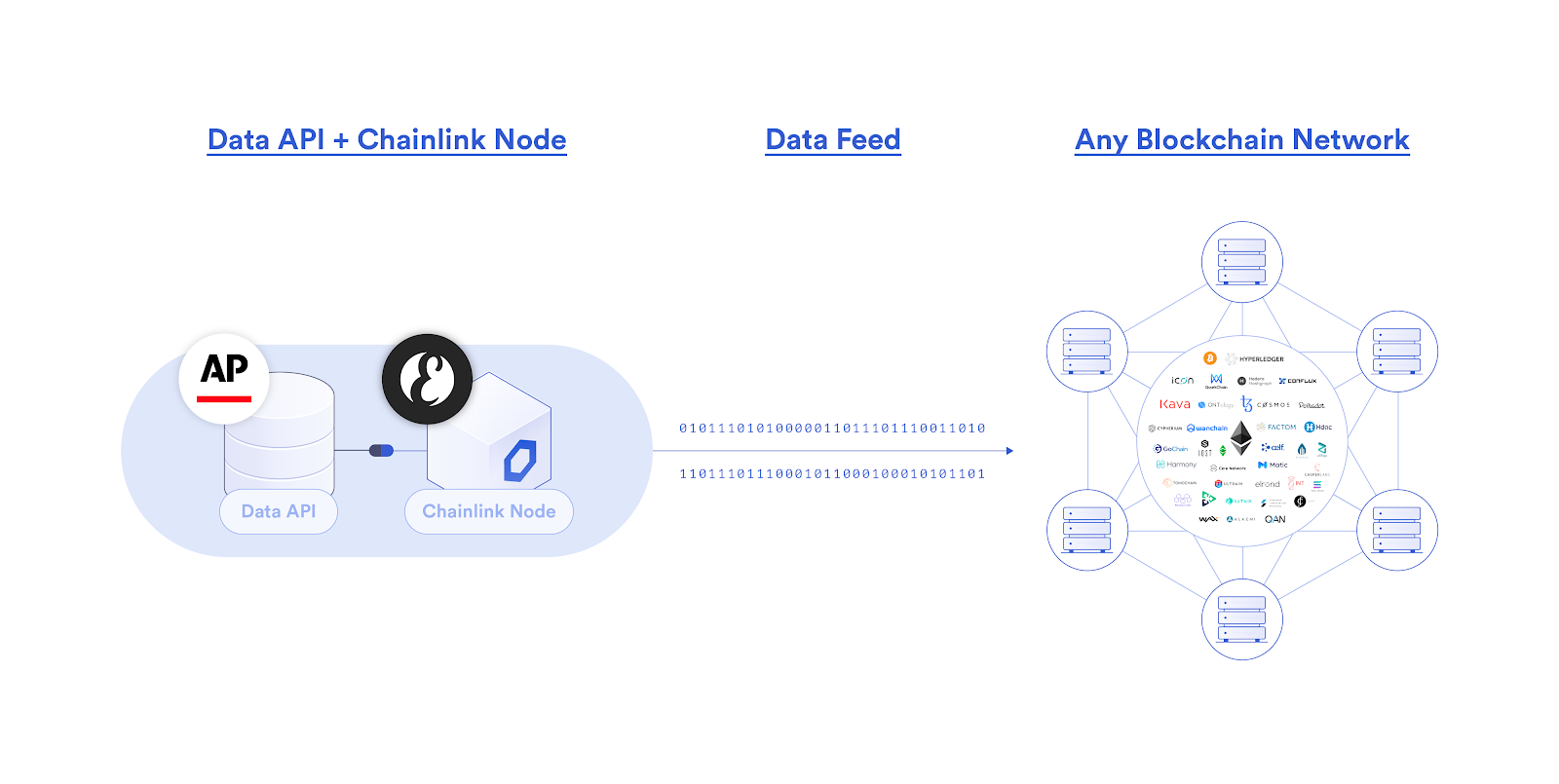 This integration is made possible by leveraging Chainlink's oracle infrastructure to allow the Associated Press to sign and publish US election results simultaneously across multiple different blockchains. By making high-quality data available on-chain from the likes of the Associated Press and providing strong guarantees on the origin of such data, our Chainlink node enables a new world of use cases for both DeFi and beyond.
"This is the first real-world case of Everipedia's oracle-as-a-service and we have chosen to use Chainlink because they are the industry standard in their unmatched reliability and infrastructure advancement," said Travis Moore, Chief Technology Officer at Everipedia.
Bringing Election Data Onto the Blockchain
Because of the inherent security properties of blockchains, smart contracts are unable to natively communicate with off-chain systems. Thus, they cannot retrieve external data from the real world and use it to trigger on-chain transactions. Instead, they require an additional piece of infrastructure called an "oracle," which acts as "middleware" that transports data between the two environments.
As such, oracles are the gateway for smart contracts to understand what is happening in the real world outside the blockchain, whether that be market prices, IoT data, sports scores, or in this instance, election results.
After performing deep due diligence on oracle solutions, we found Chainlink's decentralized oracle network to be by far the most secure and reliable solution on the market. Chainlink already secures over $4B in the DeFi ecosystem as the most widely adopted oracle, serving as a definitive case study of its security and reliability live in production. Some of the features that drove us to select Chainlink include:
Signed Data – Chainlink nodes cryptographically sign every piece of data sent on-chain, allowing us to provide definitive on-chain proof that our data came straight from its claimed source.
Sell to Any Blockchain – Chainlink Nodes are inherently blockchain-agnostic and thus can be integrated natively into any blockchain, creating a single gateway from which we can sell to all blockchains that exist both now and in the future.
Large Market of Users – The Chainlink Network is the most widely used oracle solution in the blockchain ecosystem with adoption from many leading DeFi players, ensuring our data already has a large accessible market of potential users.
Proven Security – Chainlink is thoroughly audited open-source software that collectively secures billions of dollars in value for live applications, proving its ability to protect and trigger the movement of real economic value.
In particular, signed data is critical to developers and end users verifying definitively that the US election data came directly from AP, a highly trusted source. The Associated Press has been keeping track of elections in the United States ever since 1848 at a national, state, and local level. For the first time in history, AP will be signing that data cryptographically and through Everipedia's Chainlink-powered oracle-as-a-service will be publishing that data directly on the blockchain to be used by smart contract applications. This data will be coming directly from the Associated Press' API and Everipedia will have the exclusive rights to publish that information through our Chainlink oracle node.
"When organizations like the Associated Press see value in something, they don't take things lightly, they go all in. With Everipedia, we will be making history by being the first to directly sign and publish their API data for blockchain-based smart contracts to use, and we could not have picked a better oracle solution than the Chainlink Network," says David Liebowitz, VP of Business Development at Everipedia.
"Chainlink is bridging the technical gap between blockchains and real-world data," said Daniel Kochis, Head of Business Development at Chainlink. "Making this powerful technology more accessible is key to realizing its full potential, and publishing AP's electoral race calls onto the blockchain for the first time is a big milestone in that journey. It will provide a verifiable, tamper-proof record for tracking a historic election."
As blockchain technology grows in adoption and real world usage in the coming years, the need for information from the outside world to execute transactions will continue to grow. Having trusted and reliable sources of truth that these blockchains can use will be essential for moving the space forward. As such, we plan to use Chainlink's infrastructure to support our oracle-as-a-service framework and continue expanding our services by making more high-quality data providers available across numerous different blockchains and markets. By having world-renowned organizations like AP sign and publish their data through Everipedia and powered by Chainlink, we will be able to build trusted economic and political systems that go on to redefine society for the better.
About Chainlink
Chainlink is the most widely used and secure way to power universal smart contracts. With Chainlink, developers can connect any blockchain with high quality data sources from other blockchains as well as real-world data. Managed by a global, decentralized community of hundreds of thousands of people, Chainlink is introducing a fairer model for contracts. Its network currently secures billions of dollars in value for smart contracts across the decentralized finance (DeFi), insurance, and gaming ecosystems, among others.
Chainlink is trusted by hundreds of organizations to deliver definitive truth via secure, reliable data feeds. To learn more, visit chain.link and follow @chainlink on Twitter.
About Everipedia
Everipedia's vision is to bring real-world data and knowledge to the blockchain, helping verify facts in an era of misinformation and unlocking a new class of use cases in financial markets.